Installation method: oblique single axis-tracking type 
Material quality: hot-dip galvanized / zinc-aluminum-magnesium / weathering steel Place of 
Origin: Tianjin·Jinghai
      Since the vertical line of the solar panel tracked by the flat single axis always has an included angle with the sunlight, the included angle is larger in high latitude areas, and the efficiency is not much higher than that of the fixed inclined installation. In order to improve the efficiency of the solar panel, the rotation axis of the solar panel can be installed obliquely to reduce the angle between the vertical line of the solar panel and the sunlight.
      The figure is a schematic diagram of two sets of flat single-axis tracking arrays. Each battery array has its own rotation axis. The rotation axis is on a plane perpendicular to the ground and has an angle with the ground. The rotation axis is basically parallel to the ground axis (vernal or autumnal equinox) Earth axis). The rotating shaft is installed on the bracket, and the battery array can rotate around its own rotating shaft. The yellow arrow line in the figure indicates the direction of sunlight. The rotation is controlled by the sun tracking control device, so that the vertical surface of the panel rotation axis is parallel to the sunlight.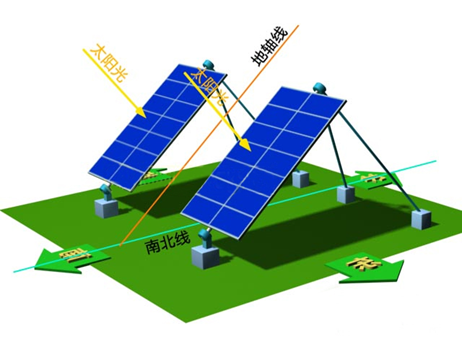 Status at 12 noon
Features:
        1. Supported by isosceles triangle bracket, strong wind resistance, simple structure, light weight, small amplitude of the grid frame, easy installation (no hoisting machinery, general basic accuracy requirements), low power consumption, high reliability. 
        2. The moving parts adopt polymer material bearings with lubrication function, which are oil-free and maintenance-free, with strong wind and sand erosion resistance and long service life.