The M-shaped steel produced by Ruifengda Metal Products came out as a new economical steel structure building. M-shaped steel is a steel structure developed on the basis of H-shaped steel and V-shaped steel, which is more stable and firmer than H-shaped steel and V-shaped steel.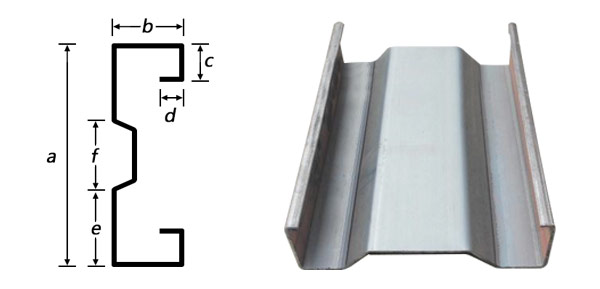 Advantages of M steel:
        ① The M-shaped steel structure frame has light weight, no additional hoisting equipment is needed, and it can be solved by manual handling and installation. 
        ② M-shaped steel structural members can easily achieve various architectural appearances, and at the same time, the span can reach more than 9 meters, and the space can be divided at will. 
        ③ The M-shaped steel structure material can be 100% recyclable and recyclable. 85% of other maintenance materials are recyclable and recyclable. 
        ④ The M-shaped steel is made of galvanized steel, which is durable and requires no maintenance. 
        ⑤ The overall performance of M-section steel is better than that of H-section steel and V-section steel. It can withstand a basic snow load of 1.55KN square meters or more, can withstand hurricanes of more than 50 meters per second, and has a wind resistance level of 12 or more. 
        ⑥ The M-shaped steel frame and the outdoor maintenance plate are connected by galvanized self-tapping screws to form a very strong plate-rib structure system, which makes this structure system have superior seismic resistance and horizontal load resistance. 
        ⑦ All M-shaped steel components are made of highly new materials, which can effectively avoid the corrosion of steel structural components during use. The corrosion resistance can reach more than 300 years, and the service life of the structure can exceed one hundred years. 
        ⑧ M-section steel section has high dimensional accuracy; excellent section performance; section size can be customized according to user requirements; the metallographic structure of the welding part performance is uniform; the weld seam is smooth and flat, which is convenient for painting; high-frequency welding thin-walled M-section steel is used.
        M-shaped steel is widely used at home and abroad: such as high-rise building curtain wall engineering (supporting steel frame), large-span light factory building, airport (roof purlin, wall purlin), multi-storey parking garage (steel frame), new office buildings, activities Housing, civil housing (steel frame).